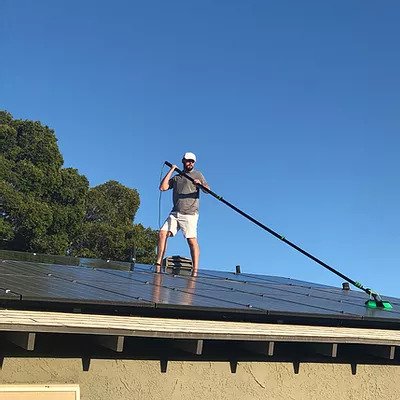 Longo's Solar Lawn Windows is a veteran-owned company located in Yuma, Arizona, and our goal is to "provide customers great service at a great price".
We use only deionized reverse osmosis filtered water and specialized solar cleaning equipment to ensure your solar panels are spotless, protected and ready to produce maximum productivity. We provide the best pricing for lawn maintenance needs and upfront pricing on window cleaning. Need other services done? We are growing and expanding our services, if you don't see something here be sure to reach out to us.​
Longo's Solar Lawn Windows specializes only in solar cleaning, which is why we are your #1 choice for your solar cleaning needs. We are a fully insured, licensed, and knowledgeable company.​
Veteran Owner, Joshua Longo first noticed a production decrease after some heavy winds and grime build-up. After comparing data from an app they had monitoring their systems production they noticed a huge difference in productivity. They inquired about pricing from other local individuals and companies and found out that they were overpriced and weren't insured. Having someone on your roof around your expensive solar panels without insurance coverage is a great risk. The idea hit Josh when he realized he can provide better service at a far better rate. As time went on he gradually grew the business into other service sectors and the rest is history.​
We offer two simple solar cleaning service plans, bird proofing, roof cleaning, lawn maintenance, landscaping, and window cleaning, and estimates are always free. Reach out to us today so we can help you maximize efficiency from your solar panels.